1
Make sure you're registered.
2
Visit your poll loc 6:30am-7:30pm.
4
Mark paper ballot then cast it.
5
Congratulations! You just voted!
Make sure you're registered to vote.
Visit our Check Registration Status page to make sure you're registered to vote. If you haven't updated your Ohio voting address you can still vote on Election Day (see Provisional Voting)
Bring an acceptable form of ID.
Name and current address must match your voter registration record.
Acceptable PHOTO ID:
Ohio Driver License/Ohio State ID/Ohio Interim Documentation (must show your name, current or former address and valid date)
State of Ohio or Fed. Govt photo ID (must show your name, current address and valid date)
Ohio Concealed Weapons ID (must show your name, current address and valid date)
Acceptable DOCUMENTS as ID: (must show your name, current address, and be dated within 12 months)
Utility Bill
Bank Statement
Government Check
Payroll Check
Government Document
Military ID Issued by Dept. of Defense
A voter presenting an Ohio driver license or Ohio ID card that shows voter's former address is permitted to cast a regular ballot so long as the voter's current residential address has been updated with the Board and appears in the official poll list of registered voters for that precinct.
Voters who do not provide any ONE of these documents at the precinct will still be able to vote using a provisional ballot and providing the last four digits of their social security number or appearing at the Board Office within 7 days of Election Day to provide ID.
Mark your ballot then cast it in the Vscan.
Since 2006 Hamilton County has used hand marked paper ballots. After marking their ballot the voter casts the ballot by feeding it into the Vscan. Be sure to wait for the American Flag to appear on the screen The paper ballot is secured in the locked ballot box below.
Vscan Video Tutorial
The Access Writer is available to voters who may have difficulty marking a paper ballot with a pen. This is an electronic ballot marking system with a touch screen, a hand-held controller option, and audio instructions are available. The voter prints out their marked ballot and then casts it into the Vscan.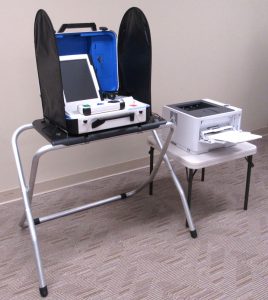 Access Writer Video Tutorial
Congratulations! You know how it works!