Board Members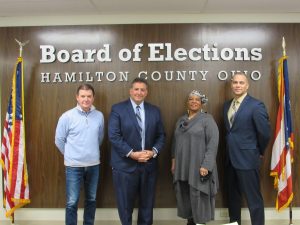 Gwen L. McFarlin, Chair
Gwen McFarlin currently serves as Chair of the Hamilton County Board of Elections. She received her undergraduate degree at Miami University, where she was the first African American woman to receive the Ruthann Busald Award. Gwen worked many years as a registered nurse and in Nursing Administration for Christ Hospital before retiring. Gwen previously served as Springfield Township Trustee for 25 years. She resigned from her position to become the Chair of the Hamilton County Democratic Party. Additionally, she serves on many Boards such as the Talbert House, Cincinnati Drifters, and the League of Women Voters. Gwen resides in Springfield Township.
Alex M. Triantafilou
Alex Triantafilou has been a Member of the Hamilton County Board of Elections since 2008 and is a lifelong resident of Hamilton County. He is a graduate of the University of Cincinnati and received his law degree from the Salmon P. Chase College of Law. A former judge of the Municipal and Common Pleas courts in Hamilton County, Alex returned to the private sector in 2008 where he joined the Dinsmore law firm as a litigator. Additionally, he is the Chair of the Hamilton County Republican Party and has been active on many local volunteer boards including the Cincinnati Zoo, Talbert House, Core Behavioral Health Center, and the Cincinnati Bar Association. Alex and his wife Jennifer reside in Green Township.
Charles H. Gerhardt III
Charles Gerhardt III has been on the Board of Elections since October 2006. Chip has worked for decades in the public and private sectors, including local, state, and federal levels of government. He has been active in politics for many years and was formerly Vice Chair of the Hamilton County Republican Party. He has made government affairs, economic development, and issue advocacy his life's work. Chip received his B.B.A. in Marketing from the University of Notre Dame and his Juris Doctor from the St. Louis University School of Law. He is active on many boards, including the Ensemble Theatre Board, Arts Wave, Findlay Market Corporation and is the former Chair of the board for the National Down Syndrome Society. Currently, Chip resides in Anderson Township with his wife Jane and their three children.
Joseph L. Mallory
Joe Mallory was nominated by the Hamilton County Democratic Party to serve as a Member of the Hamilton County Board of Elections in February of 2021. Joe Mallory began his career serving in the United States Navy with the Multi-National Peacekeeping force in Beirut, Lebanon. After the Navy, he began a career with the U.S. Postal Service, serving as a letter carrier and Union Officer with the National Association of Letter Carriers as an Arbitration Advocate. He later retired as an Election Administrator with the Hamilton County Board of Elections after 20 years, where he was responsible for Polling Locations, Absentee/Early Voting and Precinct Election Officials. Joe has served on the Forest Park Planning Commission, the Talbert House Board of Trustees and is the former Vice Mayor of Forest Park, Ohio. Currently he is President of the Cincinnati Branch of the NAACP and serves as the Chair of the Board of the Urban Minority Alcoholism and Drug Abuse Outreach Programs (UMADAOP) of Ohio. Joe currently resides in Blue Ash.
Sherry L. Poland, Director of Elections – click here to email.
Alexander F. Linser, Deputy Director of Elections – click here to email.
Location
Hamilton County Board of Elections
4700 Smith Road
Cincinnati Ohio 45212-9002
Contacts
Hours & Phone
Monday – Friday
8:00am – 4:00pm
Phone: 513-632-7000
Fax: 513-579-0988